I guess we all have trouble when speaking in a foreign language, but would you appear in TV speaking a language you are not fluent in? Would you vote for someone who participate in an international conference speaking like
this
[subtitled video]
? I didn't. If I went to Russia, I would speak Spanish, and somebody would translate, am I right? There's no need for a political leader to speak like that.
The thing is, this is not the first time Enrique Peña Nieto
[image taken from
here
]
is seen as an ignorant. He presented a book once and when he was asked about 3 books which marked his life, he could only name
"the Bible"
correctly
[and another title with a wrong author]
. Here's the
video
[subtitled]
.
Would you believe someone wrote a book but couldn't link even one book with its author?
... It was an International Book Fair.
There was this other time when someone asked him how much did one kilo tortillas cost, and he answered
"he wasn't the lady back home"
. I could go on, but you get the point.
His smile is kind of
"tricksy"
. When he was governor, some creepy stories happened. Atenco is the main example and he recently took responsability for this police behaviour. The result:
26 women raped by the police
, not one policeman in jail. If you want to read the whole story here's a
link
.
[I wrote a long post in Spanish about Atenco. The link is
here
, just in case.]
Now the state he governed is one of the first when counting murdered women. That is, even compared to Chihuahua and Ciudad Juárez. Women in Mexico get raped and killed by their husband, their boyfriend, a lover and so on. Almost no one goes to jail, not even the ones who confess.
[Sorry, I guess that's for another post.]
Enrique Peña Nieto
(@EPN in Twitter)
is just some political character the TV created and most of the people in Mexico gets information only by TV. He is married to a TV star, too. Someone
"made him"
.
The first video was shot during the 2008 World Future Societys. Would you believe he's written an article for the New York Times
(recently, in 2012)
? Well, here's the
link
. Do you believe someone who ordered Atenco's police operation when he says he will govern considering those who do not agree with him? Would you like someone like that to represent you?
Right now [July 5th, 2012], Mexico is counting the votes again. Enrique Peña Nieto and his party
(named "PRI")
are confident the result is sure enough. Andrés Manuel López Obrador
(from the left party)
is trying to prove PRI used illegal money to buy votes
["illegal" because political parties receive an amount of money and shouldn't spend more than that, according to mexican laws]
. Many in Mexico think he is exagerating and many more have seen videos in YouTube or photos in Twitter showing people trying to but groceries in Soriana
[similar to a Wal-Mart]
using electronic cards and discussing about how much money PRI gave them. Luckily, I found a subtitled
video
. And, by the way, I have seen none of these videos on the TV
[that's not such a surprise]
.
The following pictures were taken during #YoSoy132
["I am 132"]
demonstrations. This organization asks for real information and free media. They demonstrated outside Televisa
(the principal TV broadcaster in Mexico)
chanting:
"No somos uno, no somos 100, prensa vendida, cuéntanos bien"
["We are not one, we are not a hundred, paid Press, count us well".]
The text below the pictures is my translation of the banners. Please let me know if you have trouble understanding the translation. I'll fix them if it's necessary.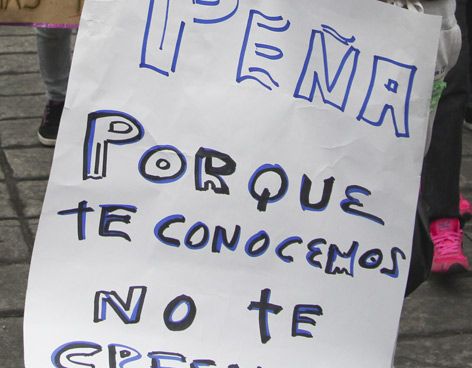 "Peña, because we know you, we don't believe you". [Image taken from
here
.]
"#YoSoy132 - Televisa makes you an idiot". The sign on their shirts is EPN's quiff. [Image taken from
here
.]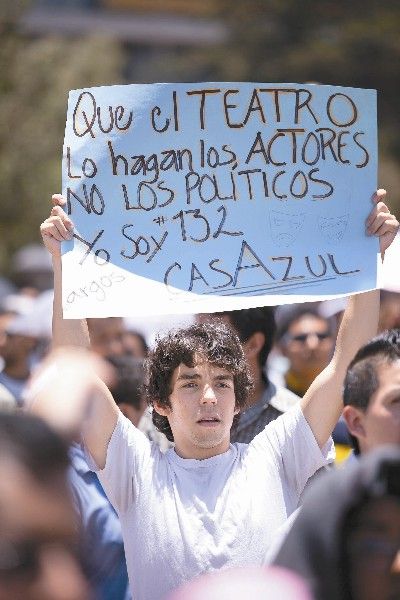 "Theatre must be done by actors, not by politicians - #YoSoy132". [Image taken from
here
.]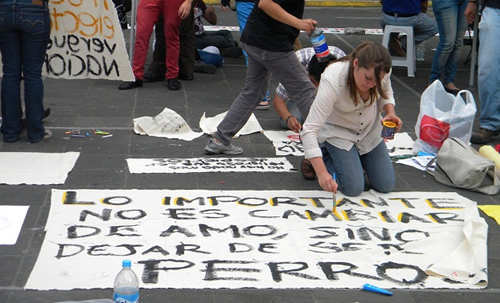 "The important thing is not to change one's master, but to stop being a dog". [Image taken from
here
.]
Enrique Peña Nieto is a real shame to me. People in the street (at least in Mexico City) seems pretty sad about him winning the elections. In Mexico there is not a second round. Votes against EPN were divided between another two parties.